BSA Troop 20
Cookeville, TN
Email:
hotmail.com@jamesdgroce
Phone:
931-528-6274
BSA Troop 20 is chartered to Heavenly Host Lutheran Church and School located at 777 South Willow Avenue, Cookeville, TN 38501 and Middle Tennessee Council - BSA. It seeks to serve families and boys ages 11-17 through out the Upper Cumberland. New boys and families are welcome at any time of the year.
The troop carries out a rigorous program in the outdoor classroom and has received numerous national recognitions to include the National Camping Award, Journey to Excellence Award, and the BSA Outdoor Challenge. The Troops outdoor classroom activities include Northern Tier Canoe Base, Florida Sea Base, two expeditions to Gettysburg National Military Park, Antietam National Military Park, C&O Canal, Harpers Ferry, hiking military trails at Chickamauga-Chattanooga National Military Park, Shiloh National Military Park, Winter Camp at Latimer High Adventure Base, Grimes Canoe Base, U.S. Space and Rocket Center, Goldmining at Dahlonega, GA; Summer Camp at Camp Craig, Boxwell Scout Reservation, and winter and survival campout at Camp Tubb.
The troop meets on Mondays, 6:30 PM to 8:00 PM at Fellowship Hall, Heavenly Host Lutheran Church and School.
For More Information, go to
www.scouting.org The official website of the Boy Scouts of America
www.mtcbsa.org The official website of Middle Tennessee Council, BSA
www.heavenlyhostlcms.org The offical website for Heavenly Host Lutheran Church, Cookeville, TN
Here are some useful LINKS for Scouts, Leaders, and Parents:
Scout Stuff, BSA online retail store www.scoutstuff.org
Boys' Life Magazine, The official publication of BSA www.boyslife.org
Scouting Magazine, https://scoutingmagazine.org Merit Badge Info, www.meritbadge.org
Order of the Arrow, Wa-Hi-Nasa Lodge #111, www.wa-hi-nasa.org
Religious Awards Programs, www.praypub.org P.R.A.Y.
Knot Tying, www.animatedknots.com Philmont Scout Ranch, www.philmontscoutranch.org
Some useful unofficial websites are www.boyscoutrail.com and www.insanescouter.org
and www.usscouts.org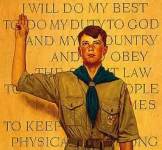 ---